<!BODY BGCOLOR=#FFFFFF LEFTMARGIN=0 TOPMARGIN=0 MARGINWIDTH=0 MARGINHEIGHT=0 ONLOAD="preloadImages();">




---
Check out my other site "Michael Fedler Photography"
FEDLERPHOTO.COM

---
<!*********************>

NEW LOOK FOR THE SITE
If you have visited my site before you will notice that the look of the site has changed as well as the navigation. The background color was changed and I have only one page for the photo galleries. The navigation has been limited to this one method to make the site easier to maintian.
---
---
Digital Moon Shot
I describe the equipment and how this picture was taken

---
As featured on the front page of the Roseville Press Tribune.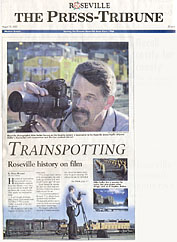 ---
[ -GALLERY- ] | [ -PHOTO TIPS- ] | [ -RELATED INFO- ] | [ -HOME- ]
[ -FAVORITES- ] | [ -LINKS- ] | [ -CONTACT- ] | [ -BIO- ] | [ -SALES- ]
---
Last update to this site: 4/28/2013
© Michael Fedler 1997 - 2013